Do's and Don'ts of Comforting a Broken Hearted Friend
Wednesday, March 11, 2015
I admit that I am not the greatest friend. I can be lazy enough to answer messages or too busy for get togethers (#IntrovertProblems). But when a friend is really in need, I can also surprise myself with what I can and will do just to be there for them.
Minsan, isang araw tinawagan ako ng isang kaibigan (itago natin siya sa tawagan naming "Tol"). Umiiyak. Basag. In short--broken hearted. If this was 3-4 years ago, I'll probably just listen. Because what do we do when someone has a story we can't relate to? We just listen. Because of that, I was inspired to create this post just in case you have a broken hearted friend. Here are my do's and don't's:
Text her back. Answer her messages or calls. Check up on her. Watch a hugot movie together habang minumura yung @$$#&!n* na Ex niya. During these times, all they need is someone to talk to.

Be there, even if they say they want to be alone.


2. DO Prepare comfort food.
Alcohol (Drink moderately), pulutan, ice cream at kung ano-ano pang mamantika at desserts. Hindi uubra ang salad dito.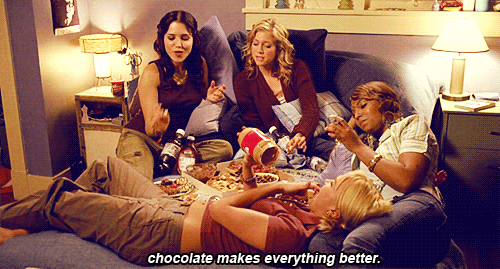 The Friend may cry a lot or drink a lot. Hell, they will talk a lot. Paulit-ulit. Iba na ang topic, ibabalik ulit niya ang usapan kay Ex. It's okay. Talking about it is part of the process. Don't ever complain and make sure you let her feel that it's okay for her to press rewind until she's all talked out.
4. DON'T play "Wala ka sa Lolo ko."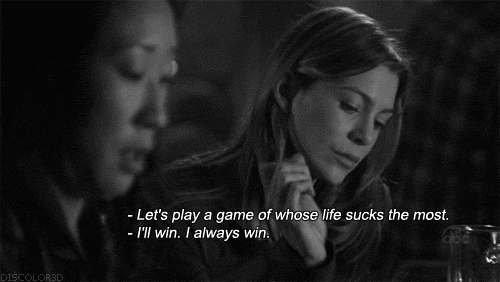 This is not a contest of who's heart was more broken. Resist, I repeat--RESIST the urge to bring up your past heart ache. Pwede siguro minimal lang--if possible only when your friend asks about it. If your sentences start with "Ako nga noon.." more times than necessary, stop yourself. This is their moment and not yours.
5. DON'T stop her from crying.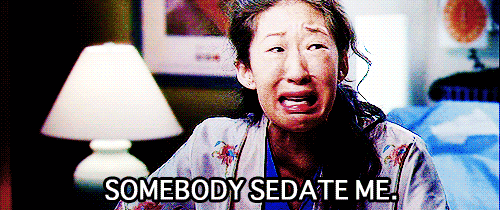 It'll be better if she let's it all out. She'll get tired of all the crying eventually. Masarap matulog pag kakaiyak lang. Believe me, sleeping is better than not being able to because you're overthinking and overanalyzing the situation.
6. DO try making the atmosphere feel lighter.
This can be very tricky so timing is the key. You have to break the heavy conversation sometimes with a different topic--a joke, an event or a new chismis about someone else. Teehee. Or you can play a hugot music (queue Where Do Broken Hearts Go).
7. DON'T get more wasted than them.
Because DUH. Haha. Who'll hold her hair when she throws up? Who will stop her from sending that drunk text? Who? Who? Okay, you may have another friend to do that just don't get drunk altogether. Or better yet, just be Chocolate wasted.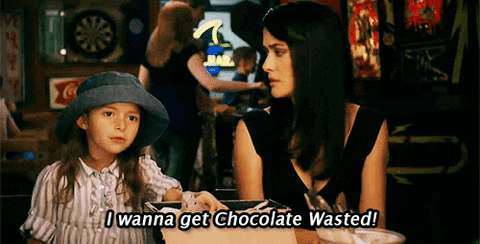 8. DON'T let them do silly things.
Drunk text/call. Egging the house. Slashing tires. Smashing cars. Okay, you can probably do crazy things--the SILLY thing is getting caught. Don't. And don't make them jump off high places too!
9.
DON'T (Never ever!) judge.
Don't judge her if she drinks too much, cries a lot or gets a rebound (stop her if possible on this one though--stopping them's still different from judging). Iba-iba ang bigat ng problema sa'ting lahat. She's not a crybaby. She's not weak. She's freakin' broken hearted and she will get over it. So don't judge her even if you've been through it before. Getting over someone does not give you a right to judge someone else's process of moving on. There is no time frame and the process isn't the same for all of us. Ika nga ni Ate Meredith Grey: "I make no apologies for how I chose to repair what you broke."
I'm an awkward hugger. I'm a one-arm hugger. Probably it's because I'm not that physical. When 'Tol was hugged by our other best friends (the cuddlier one), all hell broke lose. It was just the two of us talking before that but when cuddly bff came, man! It wasn't just sadness, it was grief--like someone died. She couldn't have 'let it all out' if it wasn't with that hug. So I'm telling you, do not underestimate the healing power of hugs.
When I got heart broken sabi ko kay Tol, na sana kahit kailan hindi niya maramdaman ang ganoong klaseng sakit, sana matakasan niya yung ganong experience. Kasi nga masakit pala talaga. Kaya noong pinapanood ko siyang umiiyak habang tumatagay, para ring dinudurog ang puso ko para sa kanya.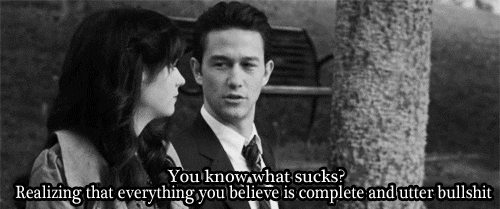 Me being an overthinker analyzed my fate this way: When my sister got broken hearted, hindi ko maintindihan. Siya ang sinisi ko at tinawag na tanga. When I got my heart broken, naintindihan ko na siya. Tapos ako naman ang naging tanga, umatungal kay Tol. Yun pala, (inamin niya), hindi rin ako naintindihan ni Tol. Tapos ngayong nangyari sa kanya--naintindihan rin niya ako. Nasaktan kami pareho. Nasaktan ako hindi lang para maintindihan ang kapatid ko at kung hindi para lubos akong maging mabuting kaibigan para sa 'Tol ko. Para pala pag kinailangan niya ng makikinig, alam ko na. At hindi ko siya huhusgahan o tatawaging tanga dahil naranasan ko na. Now, I can balance the scales. Because while she's broken and hopeless, she needs someone who still believes. I believe in "it" again. I am faithful.
There you have it folks. I hope you learned a thing or two. 'Kita mo, after awhile (hopefully) in love na yan ulit. :)